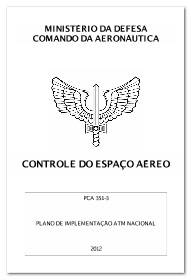 The Brazilian ATM Implementation Plan (PCA 351-3) consolidates the vision advocated in the Brazilian ATM Operational Concept (DCA 351-2) and the General Airspace Control Plan (PCA 11-368) into a performance-based action plan, which allows DECEA to define, together with all other airspace users, the Projects that will be established for the evolution of the Brazilian Airspace Control System (SISCEAB).
This plan aims to meet national needs and ensure that this evolution is harmonious and integrated with the ICAO plans, as well as improve user participation in defining the benefits to be achieved and the best relationship between the benefits expected and the cost of investments to be expended. Thus, the Brazilian ATM Implementation Plan represents, within the scope of SISCEAB, the projects and activities required for the consolidation of the ICAO Global ATM Operational Concept (Doc 9854) in Brazil.
Click on the picture to access it (Portuguese version only).